We gave the Kirbs a break from us today and had a day to ourselves. Did our early morning workout and breakfast, then off the boat to explore the city. We took a taxi over to the downtown area to do some shopping for a couple of hours and found this cool sand sculpture.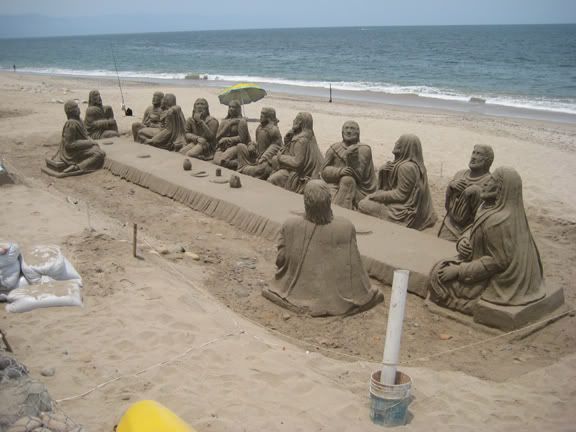 Then back to the boat to change and get some lunch before our excursion. We did the extreme canopy excursion. It was so much fun. It was one of my most favorite things we did on our cruise. It started off with a 20ish minute boatride on an apex speed boat. Super fast, thought I'd fall off if I didn't have my human seatbelt. Thanks babe. Then onto a 20ish minute ride in a vehicle that looked like this...I felt like I was at Disneyland on the Indiana Jones ride the entire time.
Then we hit basecamp where we checked in all our belongings and got geared up. We then headed over to some benches where we were assigned mules to take us up the mountain. The guides seemed to pick us at random. I fully expected us to be picked in an orderly fashion and then follow a guide up the mountain together. Not in Mexico. Paul was the second one to be picked and he got up on the mule and they smacked it's booty and it started up the hill. They said, "don't worry, the mule knows where he's going." I was the 3rd to the last to be picked. I got on my mule and he was outta there. There were about 6 of us who ended up with the good mules. They were so fun to ride. They only way I can think to describe it was a donkey derby. It was a race to get to the top and it was all the mules, the riders didn't have anything to do with it. My mule would find a 3 inch gap between other mules and think he had the right of way. Paul put a lady into the side of the mountain, we laughed the entire ride up the mountain and I ended up at the top first. Later on I asked the guides how they picked out the riders for the mules and they said that the people who looked more nervous got the slower mules. Then we flew through the trees, rapelled down waterfalls, crossed narrow bridges, ziplined into pools of water and hiked through rivers. It was so fun and we enjoyed every minute of it. Fully worth the money to go. We got back to the ship right in time for dinner and some hot tubbing. And PS. it was Cinco De Mayo today and guess what, Mexicans in Mexico don't celebrate it. I expected a huge party the whole day, but nope, no party until we got back on the ship.