We spent the majority of our time on the lake on Saturday since our camp became crowded out by the finest white trash vegas has to offer. It was great though, everyone got up and it was so fun watching everyone wipeout.
Lainie on the shark. (I think that's what it is called.)
She and Ava did so well on this. Ava went in and out without even getting wet. Her pics are on Paul's phone which I'll upload later.
Anna tried the shark, but was too heavy. So then she tried to wake board. Only took her a few tries to get up and she LOVED it!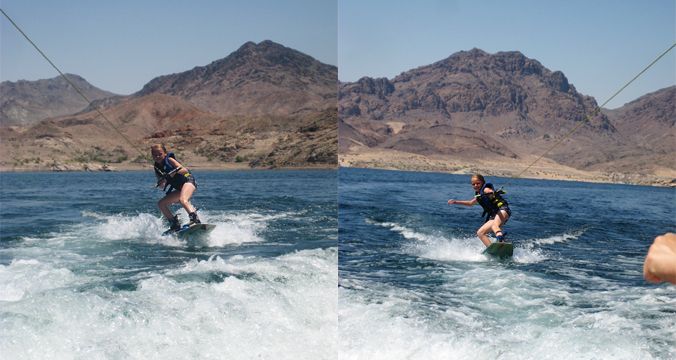 Paul and I surfed. I never let go of the rope, too nervous! Nothing like a face full of water!
The babes just hung out on the boat with no complaints.
It was a fun weekend, but a lot of work and travel for one night. Next time, we'll spend the day on the boat and then sleep in a hotel. Much better than enduring the 2 hours sand storm in the middle of the night. :) Thanks Hirt family!